Looking back through 2016, it is safe to say it's been a shit bag of epic proportions. It started bad since we were all still mourning the death of Lemmy the previous month, and then from there everything just derailed.

We all started the year thinking : "This is gonna be a great year. My chance to shine, I will work harder, I'll fulfill all my new year's resolutions. The possibilities are endless!" But then 2016 said: 
"OH HELLO. SORRY IF YOU HAD BETTER PLANS BUT HERE IS HOW WE'RE STARTING:"
DAVID BOWIE DIES OF CANCER AGED 69
Us: "Please tell me that's not real"
We were all excited for the new album! We all planned to see him on tour!
Could the year have started any worse? Not really. 
" BUT WAIT, says 2016. THERE'S MORE!!!"
THE EAGLES GLENN FREY DEAD AT 67
Us: "WH-?? …… WHAT'S HAPPENING?"
This was a hard one. How can we ever listen to Take it Easy again without bawling???
2016: "We are very sorry. Here's a try at redemption. You're welcome!"
GUNS N' ROSES PERFORM FIRST SHOW FEATURING REUNITED AXL ROSE, SLASH, + DUFF MCKAGAN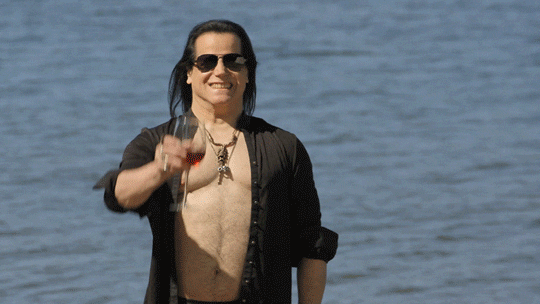 Us: "YEAH!! We're still very upset but this will be a nice distraction. Axl and Slash together. YEAH BABY!!!"
We were all beyond excited at the notion of seeing a GnR reunion. We never thought it would happen!
2016: "We knew you were going to like the news! Anyways, remember a couple months back, when Frey died and you thought the worst part was over? Well, we don't know how to tell you this, but:
PRINCE DIES AT 57: ICONIC MUSICAL GENIUS FOUND DEAD IN PAISLEY PARK
Us: "I'm done."
NO MORE PURPLE RAIN? WE CAN'T LIVE IN A WORLD WITHOUT PRINCE
2016: "It is unfortunate but since we are here we might as well tell you we have a list we're checking off for the next few months. We're really sorry. But we will be taking, James Woolley from Nine Inch Nails, Nick Menza formerly from Megadeth, John Berry frim the Beastie Boys, Keith Emerson and a little while later Greg Lake, from Emerson, Lake and Palmer, George Martin " The 5th Beatle", Paul Kantner from Jefferson Airplane/Jefferson Starship, Jimmy Bain from Rainbow and Dale Griffin from Mott the Hoople."
2016:" It's ok, everything will be ok"
Us: "I can't believe this"
Us:" STOPPPPPPP! LEAVE US ALONE!"
2016 - "We sincerely apologize, but we have a surprise! To sort of make up for what we did to you, here is the light at the end of the tunnel!"
METALLICA ANNOUNCE NEW ALBUM
AVENGED SEVENFOLD RELEASES NEW ALBUM
Us: "I see what you're trying to do." 
Thanks for trying 2016.