This year's Grammy Awards was a big deal for metal fans; we would be getting a performance from Metallica, who were nominated in certain categories as well as Megadeth. But of course, it seems like the awards just don't care much for metal in general, as a lot of mistakes were made on the night.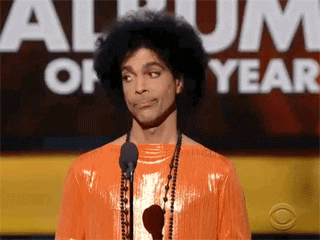 Image by People Style Watch via Giphy
First and foremost, congratulations to Megadeth for winning Best Metal Performance,  but WHO WAS IN CHARGE OF THE MUSIC? Congratulations on playing Master of Puppets while awarding MEGADETH. I'm sure Mustaine was pleased.
Laverne Cox, good job on not even introducing Metallica, for a performance of their OWN SONG, and only mentioning Lady Gaga, as if Metallica was just her backing band. If this was Beyonce performing with Gaga, and the same mistake was made, people would be rioting at this moment. But you know, it's only metal, so who cares right?
Finally, thank you to whoever was in charge of the sound for not turning on Hetfield's mic until after the first chorus, and then for not making Gaga's mic loud enough either. That was great to watch!
A lot of people disregard metal, and it's sad to see that barely any metal or rock acts are even nominated at all, and when good bands and musicians have a part in it, it doesn't seem like a lot of care goes into honouring them.
Image via Pitchfork
So nice job Grammys. You kept every performer's mic on, played the right music to every artist, and introduced everyone correctly, except for the metal artists. But that's not surprising nowadays, is it?
Subscribe to University of Rock's official newsletter here for more stories you don't want to miss plus exclusive new releases, promotions, and more.
Are you a musician looking to grow your Instagram following? Click here to reserve a feature on one of our accounts!