Chris Shiflett, most widely known as guitarist for the Foo Fighters since 1999, has just released the first single from his forthcoming album West Coast Town.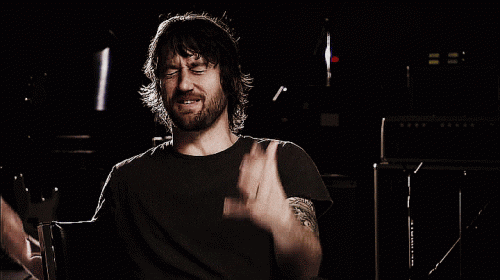 Image via Giphy
The eponymous lead single from Shiflett's new album is a through-and-through country tune. Although this may come as a surprise to some Foo Fighters' fans, those who have been following Shiflett for a while would not be.
Chris Shiflett - West Coast Town
Planned for release on April 14th, West Coast Town is the third in a line of country albums Dave Grohl's axeman has recorded. The first being Chris Shiflett and the Dead Peasants, released in 2010, and second being honkey-tonk covers album All Hat & No Cattle, released in 2013.
The Foo Fighter has been in the country game for a while and has proven to be quite talented in it. A man of many scenes though, in addition to his solo output and playing with the Foos, Shiflett also plays in punk rock cover band: Me First & The Gimme Gimmes.
In preparation for the release of West Coast Town, Shiflett will be embarking (fittingly) on an west coast tour. Additional one-off shows will also be played New York and Nashville, with Brian Whelan supporting all concerts. No sleep for the wicked I guess!
March 21 - Portland, OR @ Hawthorne Lounge
March 22 - Seattle, WA @ Sunset Tavern
March 24 - Spokane, WA @ The Big Dipper
March 26 - Missoula, MT @ Missoula Winery
March 27 - Bozeman, MT @ The Eagles Ballroom
March 28 - Ketchum, ID @ Whiskey Jacques
March 30 - Pioneertown, CA @ Pappy and Harriet's Pioneertown Palace
March 31 - Flagstaff, AZ @ Museum Club
April 2 - Los Angeles, CA @ Resident
April 3 - San Diego, CA @ Casbah
April 6 - New York, NY @ Rockwood Music Hall, Stage 2
April 9 - Nashville, TN @ The High Watt
Subscribe to University of Rock's official newsletter here for more stories you don't want to miss plus exclusive new releases, promotions, and more.
Are you a musician looking to grow your Instagram following? Click here to reserve a feature on one of our accounts!