When American pop singer Belinda Carlisle released her Billboard #1 hit in 1987, I'm pretty sure I know what she was talking about.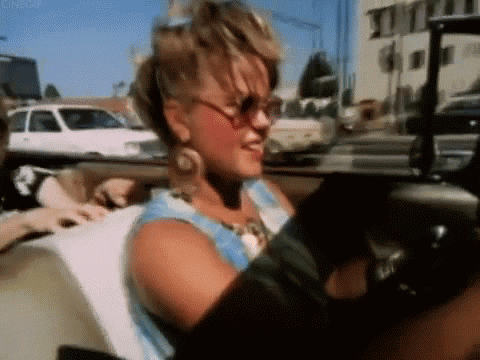 Image by Giphy Studios Originals via Giphy
As music fans, we all love going to concerts.  Some of our best memories are formed at live shows.  As we know, the venue of a concert can make a huge difference on the overall experience.  The size, sound, and overall setting are all factors that all contribute to this experience.  As such, some venues are better than others for enjoying concerts.  However, there is one venue that undoubtedly crushes every other concert venue in the United States: Red Rocks Amphitheatre.  
Image by Maria Mattera via The Denver City Page
Located in Morrison, Colorado, just ten miles outside of Denver, the outdoor venue is surrounded by three enormous rocks said to have formed about 300 million years ago as part of the Fountain Formation.  Originally known as the "Garden of the Angels" and the "Garden of the Titans", classical, opera, and stage acts have been performing at the venue since 1906.  The venue formally adopted the name "Red Rocks" in 1928.  Since 1947, there has been a concert season every year at Red Rocks.  It is tradition that a non-denominational Easter Sunday Sunrise service commences concert season every year.  I can guarantee that you won't find a church as religious and magnificent as this one!  It is only appropriate that the Beatles, widely regarded as greatest band of all time, were the first rock band to play Red Rocks, on August 26th, 1964.  Since then, this place has become Mecca for rock bands to play and for fans to travel to.  Inside the venue is a Hall of Fame of all the bands and shows that have come through Red Rocks, where a devout music fan like myself can spend hours on end.  The enormous red, sandstone rocks, combined with the surrounding Rocky Mountains, make the venue absolutely breathtaking.
Image by Red Bubble via Pinterest
Red Rocks is a special place, not only as a concert venue, but as an outdoor attraction in the beautiful state of Colorado.  The amphitheatre is located in Red Rocks Park, which is part of the local Denver Mountain Parks system.  Throughout this park are some of the best hiking trails in the entire state, as well as geographical information on the surrounding rocks.
Image via Red Rocks Amphitheatre 
If you're a music fan, particularly rock and roll, you must at some point make the pilgrimage out to Red Rocks for at least one concert.  If you can, stay longer, enjoy the scenery, take a hike, and enjoy more shows.  I promise it will be the trip of a lifetime...until then, read more cool facts about Red Rocks here!
Subscribe to University of Rock's official newsletter here for more stories you don't want to miss plus exclusive new releases, promotions, and more.
Are you a musician looking to grow your Instagram following? Click here to reserve a feature on one of our accounts!