Everybody knows the Slash is one of the best shredders this world has seen.
Anybody who feels the need to dispute that obviously has no idea what they are talking about. The legendary guitarist has recorded with many different outfits over the years. From the band he rose to fame with, Guns N' Roses, to his latest solo project, these are our ten favourite solos the magician has given us.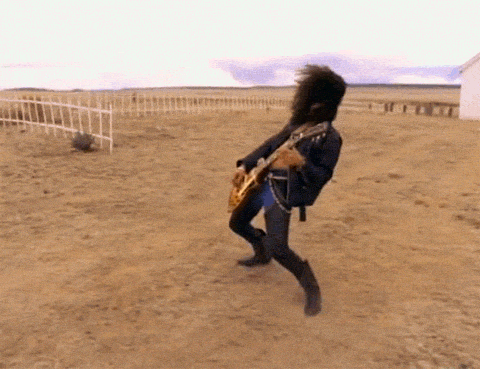 10. By The Sword (Feat. Andrew Stockdale) - Slash
First off we have a track from Slash's first self-titled solo album released in 2010. "By The Sword" features Wolfmother vocalist, Andrew Stockdale, and a slow burning, bluesy expedition firmly set in the land of wah.
 9. Life's Sweet Drug - Slash's Snakepit
After Slash left Guns N' Roses he made two albums with a band named Slash's Snakepit. "Life's Sweet Drug" is off the band's second album, Ain't Life Grand? (2000). Slash plays hard and fast on this track, shredding a flawless solo at immense speed. Solos like these are proof of Slash's technical proficiency.
8. Fall To Pieces - Velvet Revolver
After leaving Slash's Snakepit the guitarist formed supergroup Velvet Revolver. With the late Scott Weiland from Stone Temple Pilots on vocals, Guns N' Roses band mates Duff McKagen and Matt Sorum on bass and drums respectively, and Electric Love Hog guitarist Dave Kushner, the band released two albums. "Fall To Pieces" is a power ballad from the band's first record, Contraband (2004). The solo on this track shows how Slash can deliver the peak of a track with an emotional set of licks.
7. November Rain - Guns N' Roses
A Guns N' Roses classic, "November Rain" appears on Use Your Illusion 1 (1991). Another power ballad, both of Slash's solos on this track start off slow and swaying before building and building into the many different climaxes of the song.
6. Sucker Train Blues - Velvet Revolver
"Sucker Train Blues" is off Velvet Revolver's first record, Contraband (2004). The opening track for the album, it is one of their most explosive and this applies very much so to the solo. Shredding at the speed of light with harsh, bluesy bends and a wah-soaked tone, this is Slash doing what he does best.
5. Sweet Child O' Mine - Guns N' Roses
Arguably Guns N' Roses' biggest single, "Sweet Child O' Mine" has one of the most memorable solos in rock music. Often outshone though by the instantly recognisable main riff, the solo is structured magnificently. Starting off slow and melodic, it soon moves to big sweeping bends and passionate runs.
4. Always On The Run - Lenny Kravitz
While still in Guns N' Roses Slash appeared on this Lenny Kravitz song. "Always On The Run" is a bit more funky than Slash's usual style but he take to it like a fish to water. The tone of the guitar is a bit lighter than what Slash is known for but this fits the funky style. The fun solo sees Slash Tastefully shredding on one of Karvitz' best tracks.
3. Rocket Queen - Guns N' Roses
The closing song for Guns N' Roses debut album, Appetite For Destruction (1987), the track contains two parts. The beginning of the song is quick, hard and seductive, with the second half making way for more of a love ballad. The first solo on the song see Slash's guitar wailing in the background as the sound of a woman's orgasm sits in the forefront. The second solo ends the track and brings the painful mourning of the blues.
2. Slither - Velvet Revolver
The lead single off of Velvet Revolver's debut album, Contraband (2004), "Slither" has become the band's most well known song. The tune is packed full of mystery and tension. The solo breaks this when it busts out in a wah-fueled scream. Beginning with fast shredding, it gives way to more thought out and melodic licks.
1. Don't Damn Me - Guns N' Roses
At number one we have a lesser known Gun N' Roses song from Us Your Illusion I (1991). Despite not being the most popular song in Guns N' Roses catalogue, its solo is masterfully crafted. Structured perfectly, it begins with a higher take on the main riff before Slash giving us a crash course in how to melt faces. An absolutely amazing piece of guitar work from one of the best guitarists of our time.
What did you think? Did we miss anything? Let us know in the comments!
Subscribe to University of Rock's official newsletter here for more stories you don't want to miss plus exclusive new releases, promotions, and more.
Are you a musician looking to grow your Instagram following? Click here to reserve a feature on one of our accounts!