Valentine's Day, the 14th February, is an internationally recognised day of love. However, as many find out as they try to pursue love, it is quite the fleeting thing and almost impossible to tie down to a single day.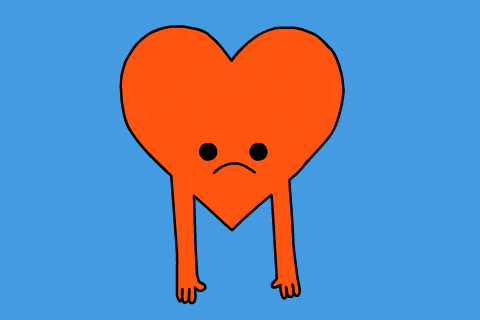 Image by Giphy Studios Originals via Giphy
Therefore on this Valentine's Day, instead of giving the lovers something else to enjoy, we're going to throw the single people a bone. These are the five best rock songs for a broken heart.
5. Do I Wanna Know? - Arctic Monkeys
The desperado anthem that opens the Sheffield band's latest album, AM, "Do I Wanna Know?" is a simple but effective tune that swirls around your emotions dripping in sneering slickness. Perfect for a broken heart in denial.
4. Glycerine - Bush
 Next up are post-grunge legends Bush. "Glycerine" chugs along with a simple but emotive power-chord progression enhanced by strings that won't stop tugging at those in your heart. A beautiful composition to compliment a broken heart yearning for anything.
3. Weight Of Love - The Black Keys
 Blues-rock duo, The Black Keys, come in with an epic tune off of their latest album, Turn Blue. Fit with soaring, Pink Floyd-inspired solos that break out into infinity before locking into a funky groove, "Weight Of Love" was inspired by singer/guitarist Dan Auerbach's divorce. Easy to see how it relates to a broken heart.
2. Heart-Shaped Box - Nirvana
 "Heart-Shaped Box" is a classic grunge tune from Nirvana's last studio album, In Utero. The lyrics in this song are fairly cryptic, as isn't unusual for Kurt Cobain, but the pain heard in his gravelly scream is enough to put you over the edge.
1. Go Your Own Way - Fleetwood Mac
 Numero uno is none other than 70s classic "Go Your Own Way" by Fleetwood Mac. The album this tune hails from, Rumours, was recorded at a time when the whole band were fighting with each other. Almost any song off of that album could be placed on this list, but "Go Your Own Way" takes the cake.
Do you have any favourite songs you like to listen to when going through a breakup? Let us know in the comments!
Subscribe to University of Rock's official newsletter here for more stories you don't want to miss plus exclusive new releases, promotions, and more.
Are you a musician looking to grow your Instagram following? Click here to reserve a feature on one of our accounts!